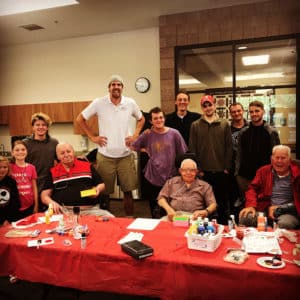 Our friends at the Southern Utah Veterans Home invited ATC to come make crafts with their residents. Each resident was given a wooden kit, which they could transform into an airplane, jewelry box, car, or birdhouse.Our guys were able to help these veterans assemble, paint and decorate each of the items. The best part of the afternoon was getting to listen to the amazing stories these men have been apart of and being able to form friendships with these great veterans.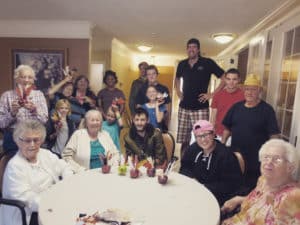 It's Thanksgiving time with our friends at The Meadows Assisted Living. ATC had the opportunity to take an ordinary red delicious apple and turn it into a turkey! We poked feathers, stuck eyes, taped gobblers, inserted toothpick feet and last but not least carefully placed a piece of candy corn for the beak.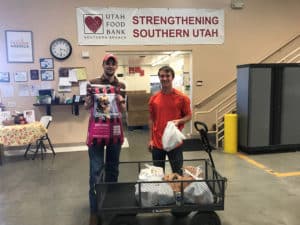 We are so grateful for the food that we have in our life especially around the Thanksgiving holiday but we also know there are a lot of people that go without food on a daily basis. The Utah Food Bank does a great job raising the food needed to help those that don't have the means. Our guys and gals spent a couple weeks collecting food and donating itto our local food bank. We were able to raise close to 80 lbs worth of food!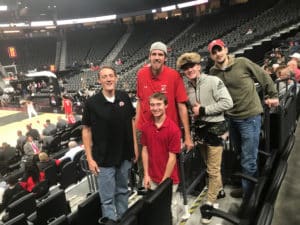 The Be the Change student committee has been working their tails off with service projects, activities and being leaders in their individual homes. We took the opportunity to reward their efforts by going to Las Vegas and watch a little college basketball at the new T-Mobile arena.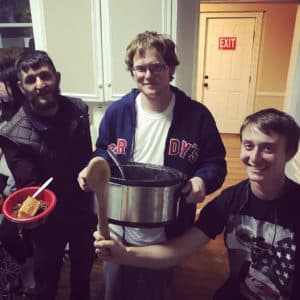 It's chow time! Our first annual chili cook off was a big success! Each home was in charge of bringing their best chili. It was a close race between the 400 and Red House but the deciding factor was the level of spice. Our judges consisted of our graduate students and some of them couldn't handle the heat from the 400 house and the Red house ended up raising the coveted Chili Cook Off Champ wooden spoon!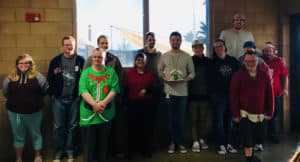 Northstar Advocates invited ATC to sit side by side with young adults who suffer from mental disabilities and create gingerbread homes. This is the same group that ATC spends bowling every Thursday afternoon. Every time we walk into the same room as this group, they automatically light up and you are instantly their best friend for life.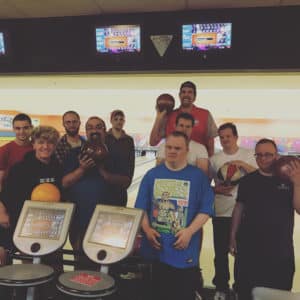 Every Thursday ATC joins forces with Northstar Advocates and participates in special Olympic bowling. It is such a blessing to form relationships with these individuals. Joy comes naturally when hanging out with this group.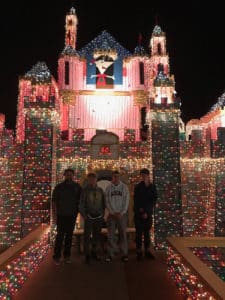 Who would've thought St George would be home to one of the best residential Christmas light shows in the country?! In fact ABC broadcasts a national Christmas light show called the Christmas Light Fight every December and the past 2 years a St George home has taken home the trophy. January through November this home is a normal 3 bedroom, 1500 Sq Ft home but come December it turns into a Christmas palace!With dozens of props, tens of thousands of lights and an electric bill that we wouldn't wish on anyone.
We are back at The Meadows Assisted Living and popcorn ball snowman ornaments are on the menu! We took mini marshmallows, butter, popcorn and a lot of cooking spray to assemble our best (some de-constructed) snowmen. With a ton of sugar to decorate and a fancy candy cane to act as the hook on top we were able to make a completely edible craft. Now our hope is that blood sugar levels don't get out of control.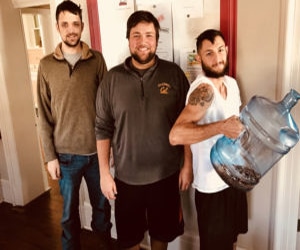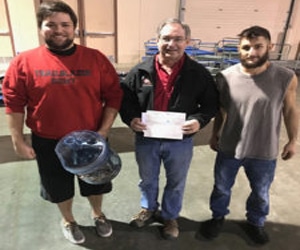 Throughout the month of December our guys and gals participated in our first annual coin drive.Each house was given a 5-gallon water jug in which they were responsible for adding nickels, dimes, and quarters to their jugs and pennies into the other jugs. Each penny was the equivalent of -1 point and the other coins were the equivalent of their value. By the end of the coin drive the 400 house collected over $35 worth of coins, unfortunate they also collected over 500 pennies making the Red house the winners!As a group, we collected nearly $90 worth of coins and then our wonderful parents helped by matching our efforts bringing our grand total to over $700!!! The money was then donated to a local charity called Kony Coins for Kids, which raises money for Christmas presents for the less fortunate children in our community.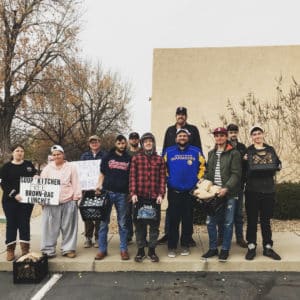 ATC spent a Saturday morning in the local soup kitchen preparing meals and personally handing them out to the homeless in our community. We had multiple stations where guys prepared the peanut butter and jelly sandwiches, cut them in half, placed them into Ziplock bags and packed the sandwiches and other food into a brown paper bag. We then split into two groups where one group hand delivered each individual bag at a park and the other group delivered their lunches in a Walmart parking lot.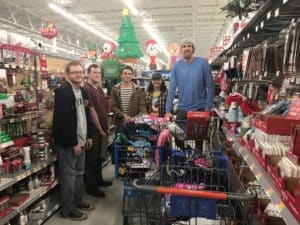 The evening of December 19 was designated as shopping night for Kony Coins for Kids. A group of us showed up at Wal-Mart,were given a family, and told to shop for each kid in that family. It was like Black Friday without the rage and anger. It was so packed but everyone was very pleasant and it was an awesome atmosphere!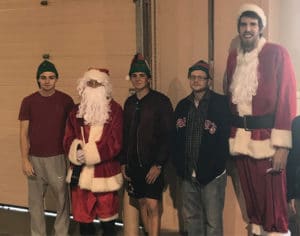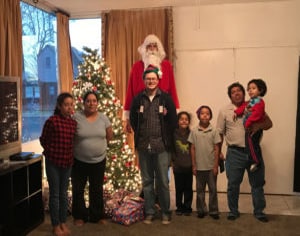 On December 21 a few of us got to be Santa Claus and his helpers. All the gifts that were purchased were divided into individual bags and hand delivered to each family in the community. Nothing can describe the faces of these kids as Santa knocked on their door! The fact that Santa was a 7 footer had no effect on these kids or parents. All they knew was gratitude for being able to offer their children a proper Christmas. It was a great lesson for the guys that helped out as they felt the impact of giving back to those that have very little. The Grinch said it best, the spirit of Christmas doesn't come from a store, Christmas is much much more.