#BeTheChange Committee Making a Difference Through Giving Back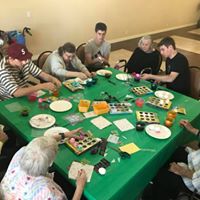 When ATC staff and clients banded together to form our #BeTheChange committee in early 2017 the goal was to create a collaborative forum to share ideas and formulate plans surrounding giving back to the community. And boy, did it ever take off! With the addition of Dave Foster to Team ATC as Community Outreach Coordinator the list of service projects our staff and clients have participated in and completed is pretty impressive if we do say so ourselves.
The possibilities to give back to the community are endless – soup kitchens, community clean up, bagged lunches, clothing drives, Special Olympics, senior centers, animal shelters, Senior Olympics, and the list goes on. We have tapped into a number of these means of giving back totaling 869.5 hours thus far through June 2018!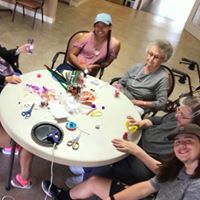 A front running favorite for ATC staff and clients alike is our weekly trip to The Meadows, a senior living community in St. George, UT. One of our clients took some time below to share about his weekly experiences at The Meadows and the profound impact they have had on him: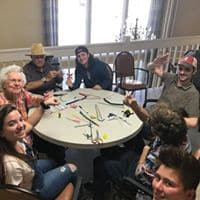 "Prior to my experience with At the Crossroads I had participated in community service projects ultimately for self-serving motives. Whether it was to get into the National Honor Society in order to boost my college resume or participating in team projects with my lacrosse team as publicity stunts; service always seemed like a chore in order to reach a personal end goal. It was not until my involvement with At The Crossroads that I was able to realize the true meaning of community service and the positive impact it had on not only the people I was serving, but the personal growth and empowerment I attained through helping others helping me to become proud of who I am today. I did my best to immerse myself in the abundance of service opportunities At The Crossroads offers on a daily basis. In doing so one particular project began to resonate with me and quickly became something I looked forward to every week.
Each Wednesday around 3 in the afternoon we visit a retirement community known as "The Meadows" to aid some of their weekly activities for an hour or so. I had some preconceived stigmas regarding retirement communities having never been to one and frankly wasn't too excited to be helping. However, as soon as I entered the building, in particular the room in which the activity was taking place, I felt an excitement pulsing throughout the room from the residents and the staff that became infectious. Quickly noticing how grateful they were to have us there with them along with the enthusiasm around whatever task was at hand this week. Considering what we were doing was a simple arts and crafts activity assembling Easter Bunnies, their passion simply amazed and inspired me to take nothing for granted. That moment was one of the first times I was able to think outside of myself and see the situation as it was from their perspective, allowing me to truly appreciate the cards life has handed me. I thought to myself, if a 90 plus year old man or women is able to approach life with that type of focus and appreciation, why shouldn't I be doing the same?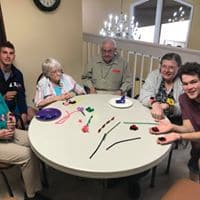 That instance drove me to do everything in my power to stay present and give these people all I could in the short time I am with them. Seeing the looks of shear happiness and gratitude on their faces in doing something so simple made me realize how important of a role service can play in people's lives. Ironically, it led me to notice how influential it could be in my own life as well. In the two pictures below those are just a few of the people I was lucky enough to meet and form relationships with. Taking a closer look at those photos, I have honestly never seen a more genuine smile on myself in any other photo. That means a lot coming from someone who can't smile to save their life. Not to mention the joy each person at the table is embodying in the photo as well. Ultimately, I was able to learn I am able to help myself through helping others by participating the service project at "The Meadows" each week. Nothing is more satisfying than seeing that both parties involved benefit in the ways unforeseeable to the common observer. I continue to look forward to helping out at "The Meadows" each week and am excited to see what comes next. Without At The Crossroads I'm not sure this realization would have happened, fostering me to continue to make service a part of my life." – ATC Client