Have you considered an employment program for your troubled young adult? Have you wondered how you could help your daughter or son get the help they need occupational skills training or internship programs? If you have a young man or woman between the ages of 18-25 who is struggling to make the critical transition from the teenage years and adulthood, At The Crossroads is here to help.
At The Crossroads is part of an employee training program that is designed to help young adults who are struggling to push themselves forward into the adult world of careers and schooling. They are in need of job skills, as sometimes the young man or woman will find themselves afraid of the unknown, uncertain of the possibilities before them, and certain they will fail. Parents may try to help in any way that they can, but again, many find it impossible to motivate or adequately assist their son or daughter in furthering their future.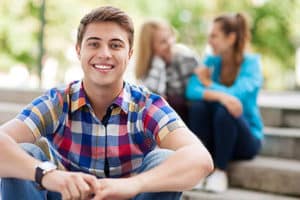 Here at ATC, we professionally trained advisors and therapists that will guide your young adult to their future success. We will be there with them as they learn job skills, fill out resumes, participate in interviews, and seek out jobs. We access internship programs to help some of those occupational skills become a reality.
At The Crossroads understands the plight you and your young adult are facing, and we will help. We specialize in helping young adults through employment training programs. To start them on the path of stronger adulthood, call us today at (866) 439-0354.
Occupational Skills Training Can Make A Difference For Young Adults From St. George, UT
Employment programs that assist with occupational skills training help youth succeed and thrive in the adult world. Many young people are intelligent, talented, and gifted, yet all too often, they struggle greatly with choosing a career and even with basic life skills. For whatever reason, they feel uncomfortable entering the "real world." All of the options, all of the expectations, often get overwhelming. When the poor decisions they make begin to accumulate and build upon each other, their lives can quickly spiral out of control. Finding a job is the last thing on their minds, even when it should be the first.
But we can help. At the Crossroads is providing not only occupational skills training but life skills classes and career life skills, along with transitional activities. We prepared to assist your son or daughter from St. George, UT in acquiring the skills and confidence they need to enter the workforce and become a success. Our staff is highly specialized and eager to help your young adult find their strength. Call us today at (866) 439-0354.
Job Skills Are essential for every young adult from St. George, UT
At The Crossroads is a transitional living program that is built to help young adults with their job skills. We help them come out of their rut, find employment opportunities, and reflect on why they are making poor decisions. We assist them in learning how to draft a resume, acquire essential job skills, and even give them a thorough assessment to see which areas are their strengths and to discover how we can help their weaknesses.
Life has many challenges, and not everyone is immediately equipped to deal with every aspect of it. At ATC, we understand this and are determined to help. It is essential that they learn to find their strengths and conquer their weaknesses, all geared towards taking their new job skills and moving forward successfully in life.
Internship Programs for Young Adults from St. George, UT
Every young adult, in order to move successfully through life, needs some experience in work training. This can be accomplished through internship programs, both public and private. AT The Crossroads, a transitional living program for young adults, provides just such opportunities—internship programs that utilize hands-on training for the young adults, and uses them as a protégé.
Some young adults struggle with job skills and work training is an ideal way to help them through this. With internship programs, the work training is entirely directed towards these essential skills, with hands-on training to provide the direct experience. At the Crossroads will help each young adult discover their potential and hone their skills accordingly.
Parent Resources in St. George, UT Area:
Southwest Behavioral Health Center – Southwest Behavioral Health Center's charge is to help clients, families, and the population in the prevention of, and rehabilitation from severe and steadfast mental illness and addiction. As a member of the strong human service distribution system, Southwest Behavioral Health Center is pleased to be helping our communities to address challenging family and community problems.
The Doctors Volunteer Clinic – As a non-profit, non-government healthcare group, the Doctors Volunteer Clinic implements entrance to affordable healthcare services for the uninsured, underinsured and low-income families in Southern Utah. The DVC accomplishes this by acting as a "safety net" of services that covers primary medical care, mental health services, and dental care.
When Young Adults From St. George, UT Fail To Launch Successfully
If you are eager to get support from the healing therapy from factors described above, and to make a positive change in your young adult child's life, we urge you to contact At The Crossroads today. You can reach us immediately at (866) 439-0354.
Inspirational thoughts to live by for people in the St. George, UT area..
"Depression weighs you down like a rock in a river. You don't stand a chance. You can fight and pray and hope you have the strength to swim, but sometimes, you have to let yourself sink. Because you'll never know true happiness until someone or something pulls you back out of that river–and you'll never believe it until you realize it was you, yourself who saved you." Alysha Speer
"Self-care is possessing enough self-awareness to invoke repeated patterns of being, that harmoniously correct the behaviors of over-functioning for others while under-functioning for yourself." LaShaun Middlebrooks Collier